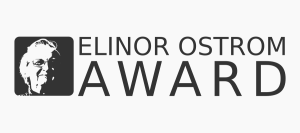 Time – Friday July 14, 12:45 – 14:00
Location – UCK Domplein, Marnix Room
Chair – Leticia Merino, Chair of the Award Committee of Elinor Ostrom Award on Collective Governance of the Commons
The IASC2017 organizers are proud to announce the 2017 Ostrom Award Winners lunch lectures. The lectures will be delivered in the Marnix Room of UCK Domplein (one of the conference venues) during the lunch break (12:45-14:00) on Friday July.
Ugo Mattei (Professor of Law, University of Turin & University of California-Hastings, 2017 Elinor Ostrom Award for Senior Scholars) will deliver a lecture entitled – On positivism and the commons, and Joshua Cinner (James Cook University Australia, Coral Reef Studies ARC Center of Excellence, 2017 Elinor Ostrom Award for Young Scholars) will deliver a lecture – Co-managing coral reef fisheries.
The lectures are open to all participants in the IASC2017 Conference.
For more info on the content of the lectures, see https://www.2017.iasc-commons.org/ostrom-award-laureates-lectures/
Lunch lectures 2017 Ostrom Award winners at IASC2017 Conference!