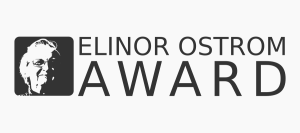 The Board of the Elinor Ostrom Award on Collective Governance of the Commons has recently announced the laureates of the 2017 Awards. The Elinor Ostrom Award 2017 has been awarded to prof. Ugo Mattei (University of Turin / University of California-Hastings) in the category Senior Scholars, to prof. Joshua Cinner (James Cook University, Australia) in the category Young Scholars, and to the Asociación Forestal de Soria (Spain) in the category practitioners. The Awards will be presented at the IASC2017 Conference in Utrecht, July 10-14, 2017. Also, a special session with presentations by the laureates will be scheduled.
The Award, created to honor and develop the legacy of Elinor Ostrom, aims to acknowledge and promote the work of practitioners, young scholars, and senior scholars involved in the field of the commons. According with Ostrom´ s large legacy the scope of the Award aims to be broad, including academic and applied work on traditional commons (forests, water bodies, pasture lands, fisheries, etc.), local commons, interlinked commons (forests and watersheds, fisheries and coastlines, etc), global commons, knowledge, cultural and virtual commons. The 2017 Awards will be presented at the IASC2017 Conference 'Practicing the Commons'.
Elinor Ostrom Award laureates announced!